This Partnership Enables Pharma Companies to Intelligently Monitor and Manage Medication Intake and Minimize Lack of Patient Compliance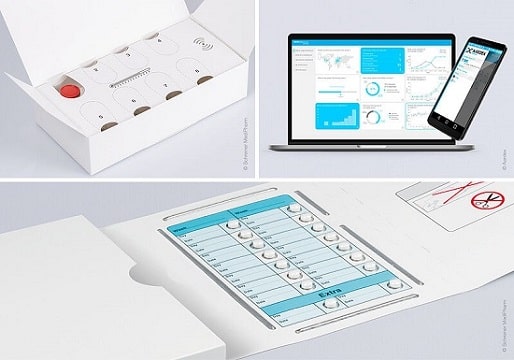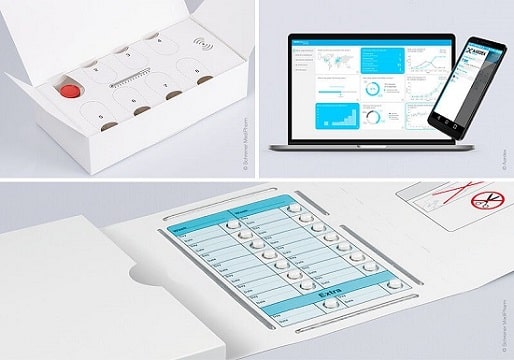 Liege, March, 3, 2021 – AARDEX Group, the world leader in medication adherence solutions, continues to build up its ecosystem and to bridge GMP to GCP world in Clinical Trials by reinforcing their strategic partnership with Schreiner MediPharm, a global specialist in innovative functional labels and smart packaging solutions for the pharmaceutical industry.
The collaboration underscores both companies' expertise in enhancing efficiency of drug development, by offering data generating packages and end-to-end software solutions to digitally manage medication adherence in clinical trials. The goal is to optimize drug development and enable precision medicine.
David Dalla Vecchia, CEO and Financial Lead of AARDEX Group, comments, "Based on our strong portfolio of partner collaborations we can offer complete patient non-compliance solutions based on patented products. All of Schreiner MediPharm's smart package solutions are now compatible with the AARDEX MEMS® Adherence Software (MEMS AS®) solutions. This partnership reinforces the position of the AARDEX digital interface and back-end platform as a unique solution to collect, analyze, and manage medication adherence data in clinical trials. It is aligned with our strategy to open the AARDEX digital platform to a variety of smart pharmaceutical packages and smart devices to cover all routes of drug administration. In addition, using this technology, the patient is empowered as the central actor in control of the dosing history data."
"Our partnership with AARDEX combines Schreiner MediPharm's unique smart packaging technology, which can be scaled up via roll-to-roll processes into large commercial volumes, with the necessary intelligence from AARDEX. This cooperation will enable us to leverage the full potential of medication adherence in clinical trials and commercial environments. We look forward to supporting our customers with a complete solution and joint consultancy expertise," summarizes Stefan Wiedemann, Senior Director Strategic Marketing and Business Development at Schreiner MediPharm.
AARDEX and Schreiner MediPharm's commercialized solution allows pharmaceutical companies to mitigate risks of medication nonadherence in a cost-effective way. The combination of AARDEX MEMS® Adherence Software and Schreiner MediPharm's smart packages allows to seamlessly monitor, analyze, manage, and share medication adherence data with designated stakeholders. It optimizes drug development by enabling an accurate measure of medication adherence in clinical trials and ensures high fidelity to the dosing regimen specified in the clinical trial protocols, as suggested recently by the US FDA and EMA. Further benefits include identifying structural deficiencies and gathering key patient adherence behavioural data for successful marketing strategies.
About the technology
AARDEX medication adherence solutions are based on the MEMS® Adherence Software, MEMS AS®, integrating visualization and analytical tools which process dosing history data recorded by using different kinds of smart pharmaceutical packages or smart devices such as injectables, inhalers, nasal sprays or eye drop dispensers.
Schreiner MediPharm offers smart, customer-specific blister packs for digital therapy management. When the patient pushes a tablet out of the blister, data are generated in real time, such as the time of medication removal, the dose or, optionally, the respective blister cavity. These data are automatically stored in the package and can be transmitted to a database via a smartphone app or a reader. Beside smart blister packages the sensing technology can be adapted to smart kit boxes for containers such as vials or syringes.
About AARDEX Group
AARDEX Group is the world leader in digital solutions to measure and manage medication adherence. AARDEX develops and markets digital solutions for adherence-enhancing strategies in clinical trials, research settings, and professional healthcare systems. AARDEX is the central actor of a complete ecosystem that combines its MEMS® Adherence Software with a wide range of smart packages and devices that measure patient adherence across all routes of drug administration. AARDEX' vision is to continuously innovate in data-driven medication adherence solutions to enhance digital therapeutics and patient empowerment.
About Schreiner MediPharm
Schreiner MediPharm, a business unit of Schreiner Group GmbH & Co. KG based in Oberschleissheim near Munich, is a leading developer and manufacturer of innovative, multifunctional specialty labels and marking solutions with value-added benefits for the pharmaceutical and medical device industry. Thanks to its strong solutions expertise and specialized know-how Schreiner MediPharm is a highly capable development partner and reliable quality supplier to leading pharmaceutical companies worldwide.
For Media Enquiries:
On behalf of AARDEX Group
aardex@discovery-pr.com
Sophie Beattie
Email: sophie@discovery-pr.com