Compliance Packaging for Medications
Injectapak® Compliance Packaging for Medication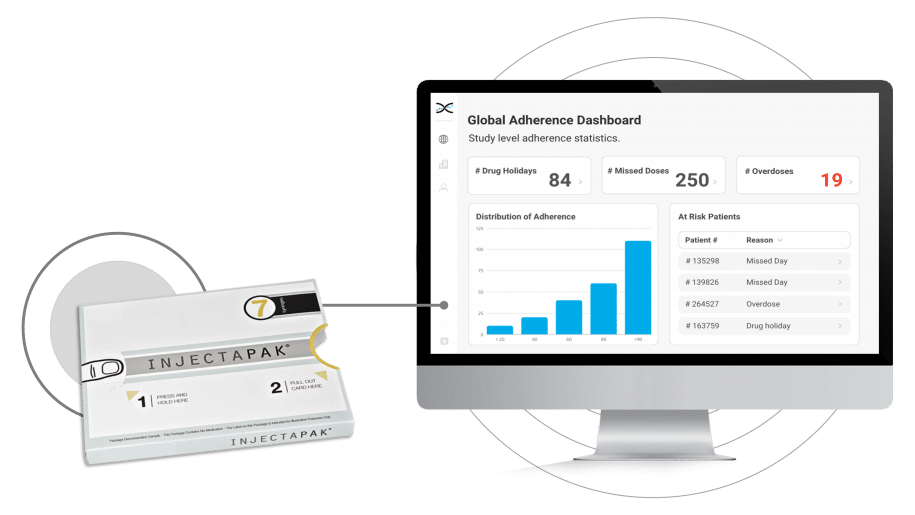 Presented by Westrock, Injectapak is a specialized compliance packaging for medications designed to support participants in clinical trials investigating injectable medicines. Its primary goal is to reduce non-compliance with treatment by providing a convenient and participant-friendly reminder system, ensuring participants administer their injections as prescribed. Injectapak improves participant outcomes and ensures more accurate clinical trial results by simplifying the process and assisting with medication management.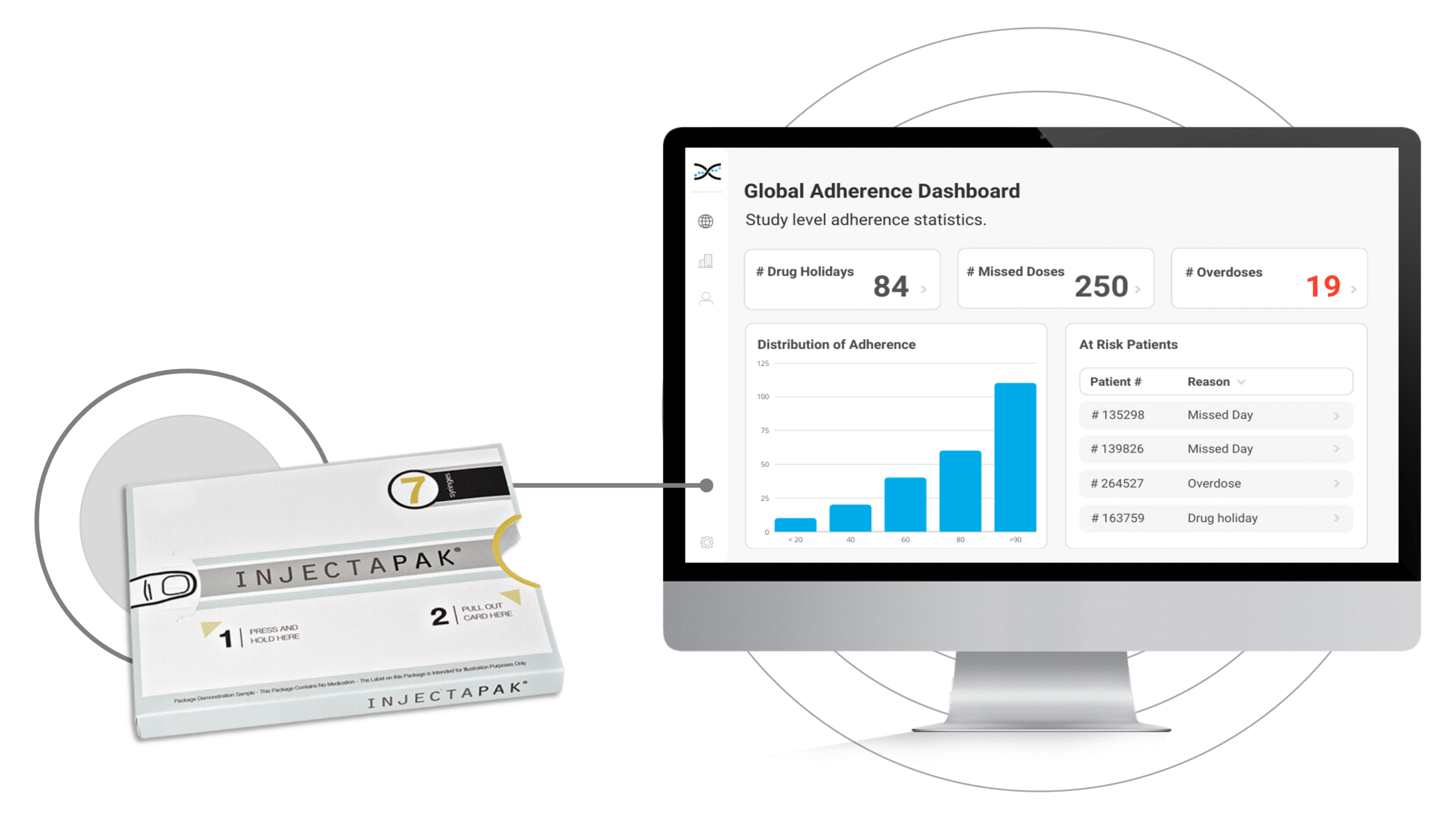 Trusted Solution for Identifying Non-Compliance
Identifying non-compliance with treatment is an essential factor in conducting clinical trials. Failure to comply, particularly with injectable medications, can have far-reaching consequences, including compromised study accuracy, diminished treatment efficacy, increased risk of adverse events, and extended trial durations, which can raise research costs significantly.

To overcome these challenges, the pharmaceutical industry has embraced Westrock's Injectapak, a user-friendly compliance packaging for medications. Injectapak enhances compliance by providing precise and straightforward dosing instructions for participants, reducing the likelihood of self-administration errors, and improving treatment adherence. By addressing poor compliance with treatment early on, clinical trials can proceed more efficiently, yielding more precise results and ultimately leading to enhanced participant treatment outcomes.

Moreover, Injectapak is fully compatible with AARDEX Group's treatment adherence software, MEMS AS®. The integration of these two cutting-edge technologies enables real-time, remote compliance monitoring for clinical researchers. By syncing data gathered by Injectapak with MEMS AS, compliance dashboards and reports generate automatically, offering insights into treatment usage trends. This crucial information can help identify participants struggling with adherence and facilitate adjustments to treatment plans as necessary.

The use of Injectapak offers a comprehensive solution to the challenges of non-compliance. By improving compliance, Injectapak and MEMS AS can lead to more reliable and precise results, benefiting researchers and patients alike.
Detect Non-Adherence in Real-Time.
In conjunction with AARDEX Group's treatment adherence software, MEMS AS, Injectapak serves as a formidable solution for identifying non-compliance with treatment in clinical trials. Its sophisticated microprocessor technology enables precise treatment usage data collection. MEMS AS processes the data using more than seventy proprietary algorithms to create dashboard visualizations and reports on compliance at various levels, including participant, study, and site. This fusion of technologies establishes a new benchmark in medication compliance monitoring. It equips investigators with unparalleled insights into how participants interact with treatments, empowering them to make well-informed decisions and implement measures that enhance participant outcomes.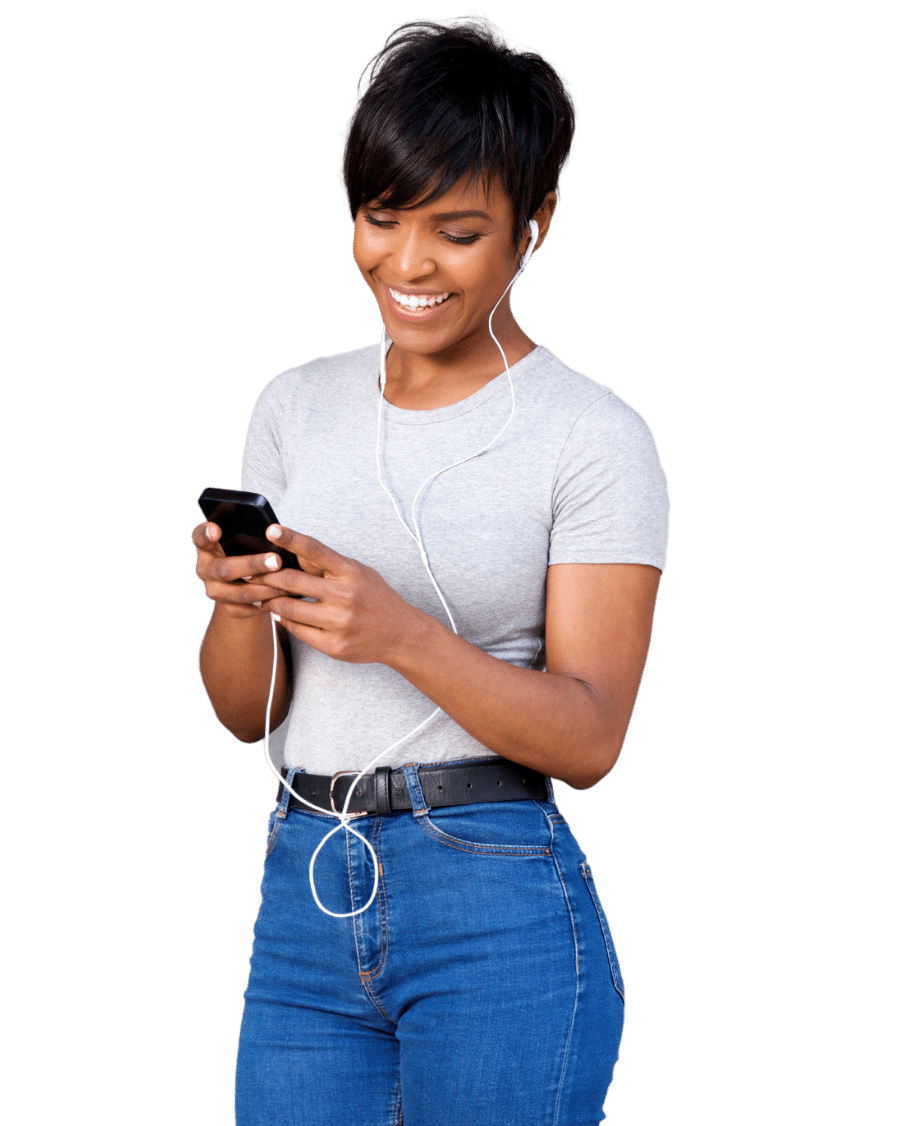 Discreet Medication Reminders.
Overcoming obstacles to treatment compliance in clinical trials is essential for enhancing participant outcomes and preserving research integrity. We understand the significance of providing user-friendly solutions that impose minimal burden on participants, requiring only that they follow their prescribed treatment regimen Injectapak integrates seamlessly with MEMS® Mobile, a handy app that enables participants to schedule medication reminders, assisting them in adhering to their dosing schedules. By adopting a participant-focused approach to treatment compliance and integrating Injectapak with MEMS Mobile, we aim to empower participants and support them in achieving improved health outcomes. Our commitment to this approach ensures that participants and researchers benefit from reliable and accurate clinical trial results.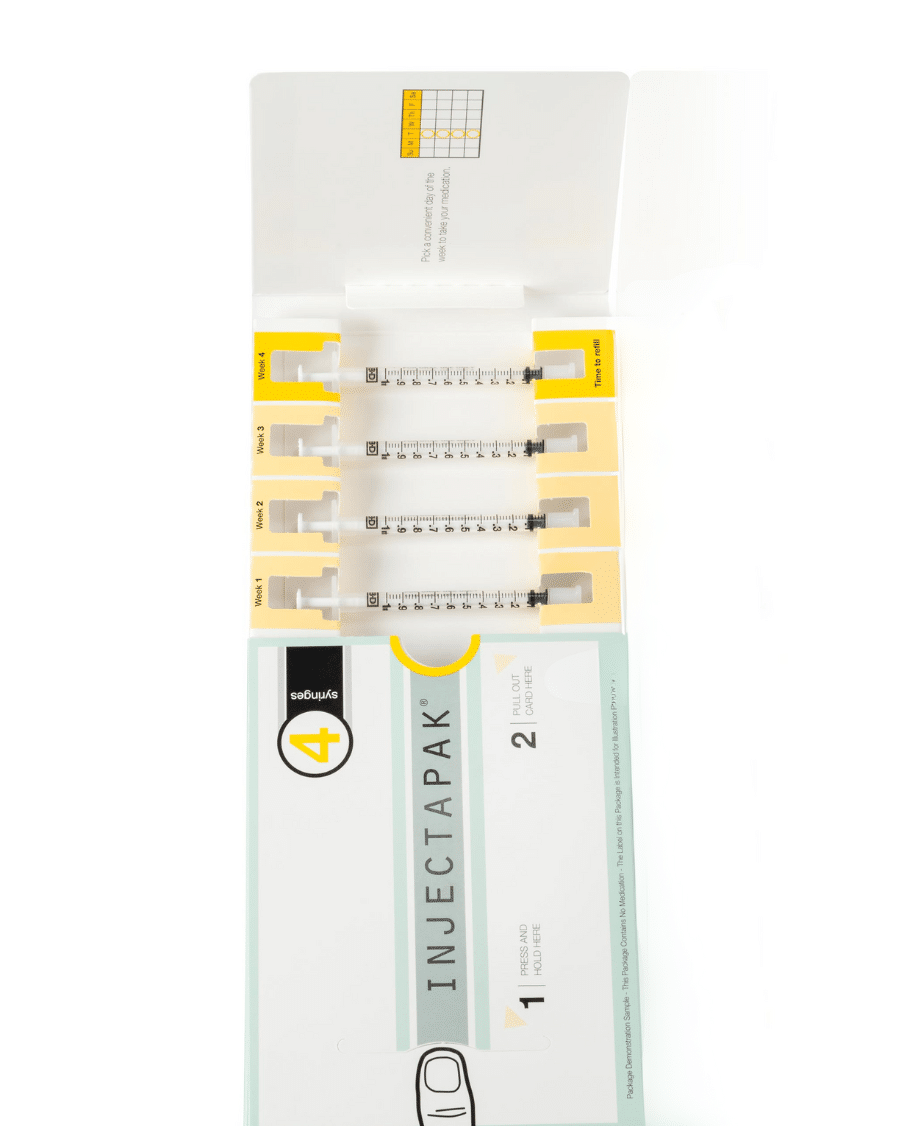 Flexible Compliance Packaging for Injectables.
Injectapak offers weekly or monthly dosing packages, simplifying injection management for participants, even when faced with complex treatment schedules. By streamlining the injection management process, Injectapak significantly enhances compliance with treatment, ensuring that participants administer the right doses at the right time intervals. Equipped with a user-friendly design, flexible dosing options, and a focus on participant convenience, Injectapak is raising the bar in compliance packaging. This innovative approach to adherence helps researchers and healthcare providers better understand the effectiveness of medications and supports the development of more effective treatment plans.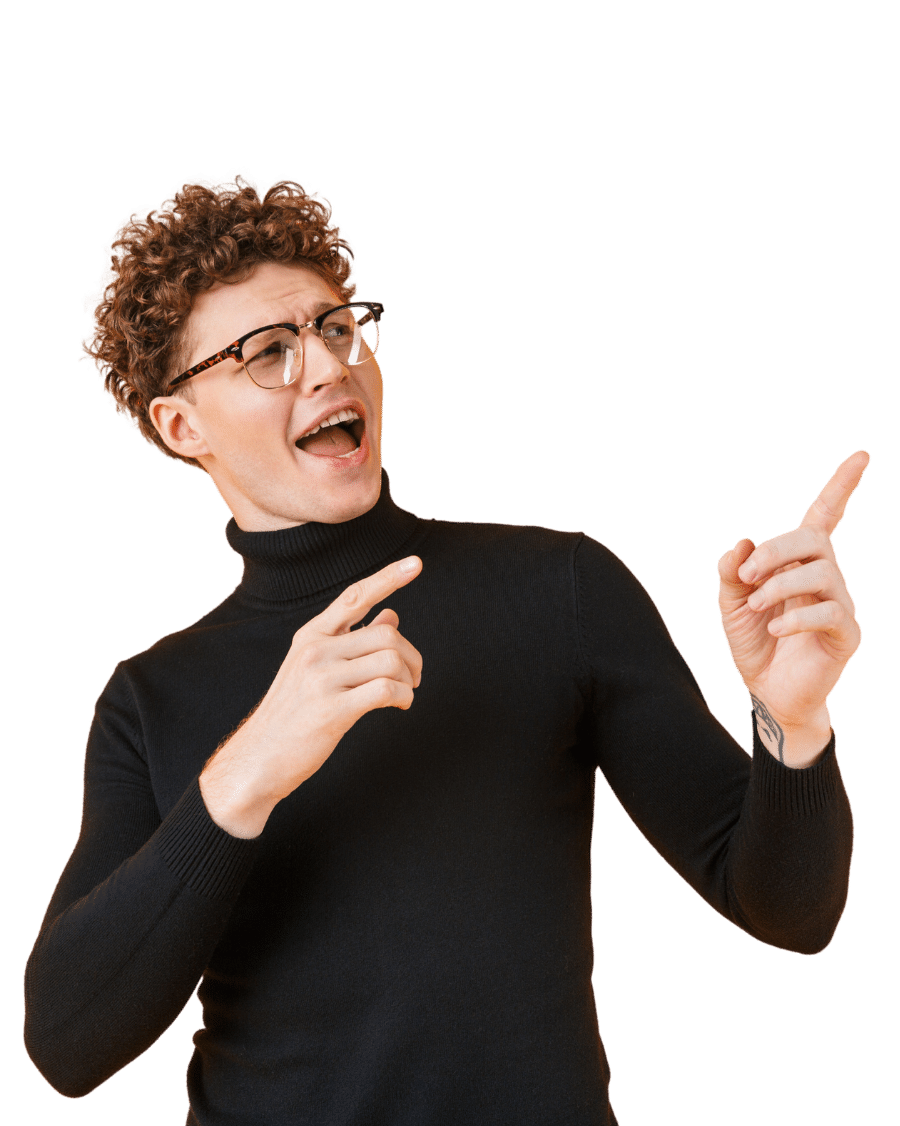 FDA-Endorsed Adherence Strategy.
The FDA's guidance, "Enrichment Strategies for Clinical Trials to Support Determination of Effectiveness of Human Drugs and Biological Products," directly appeals to the research community to prioritize treatment adherence. In line with this objective, the FDA recommends employing compliance packaging to motivate and encourage participants to follow their treatment regimens. By harnessing technology in treatment management, researchers can adopt a proactive approach, leading to more tailored and efficacious care.

The Go-To Solution for Pharma Companies
Some of the world's leading pharmaceutical companies have embraced our medication adherence solutions. From global giants to niche players, these organizations have recognized the value of our innovative solutions for enhancing medication adherence, reducing costs, and improving patient outcomes. It's an honor to partner with these remarkable brands, and we're proud to contribute to their efforts in advancing healthcare.
Connect with an adherence expert.
WEBINAR WITH MERCK & BIOGEN
Mitigating the Risk of Poor Adherence in Trials
Watch this live recording with adherence experts from Merck & Biogen to learn about their approach to mitigating the risk of poor adherence in trials.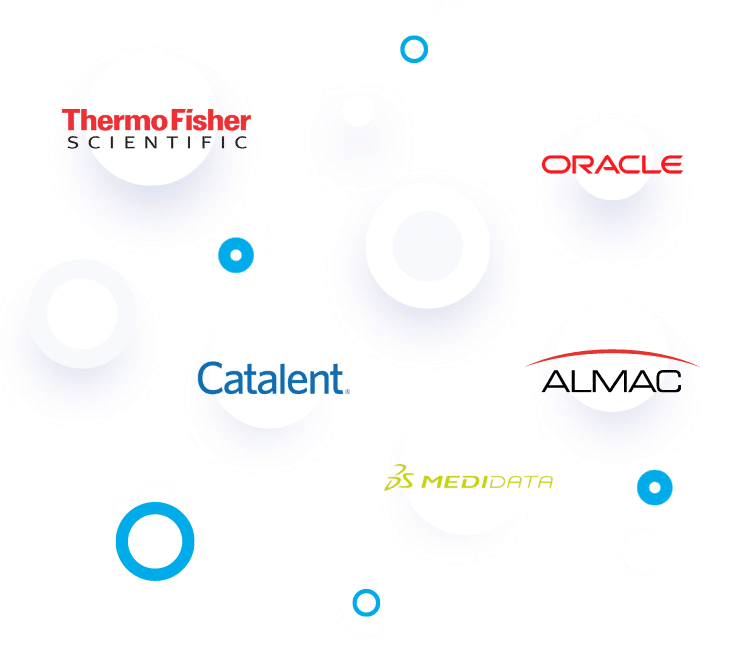 Collaborating for Safer, More Efficient Trials.
By combining technology and partnerships, we are revolutionizing how medication adherence is monitored in clinical trials. Our unique adherence ecosystem brings together leading medication adherence packaging and devices and DCT, IRT, and EDC vendors, CROs, and CMOs to drive innovation.