Patient Adherence Packaging
Cerepak® Patient Adherence Packaging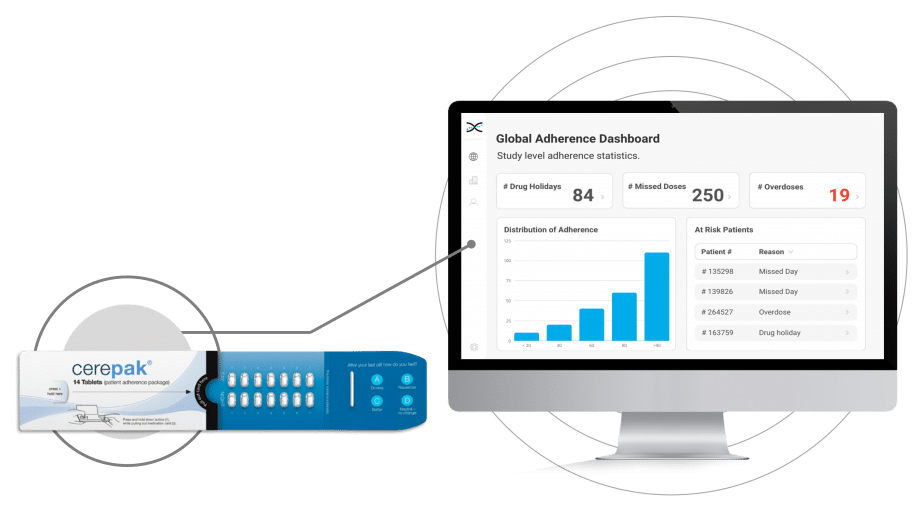 Brought to you by Westrock, Cerepak is a patient adherence packaging equipped with hidden processors that accurately capture the date, time, and location when medication is removed from the package. This innovative approach to collecting adherence events provides valuable insights for researchers, allowing them to remedy patient non-adherence quickly. With Cerepak, participants can benefit from medication reminders that keep them on track. In contrast, researchers can benefit from real-time insights into how patients cope with their medication regimens.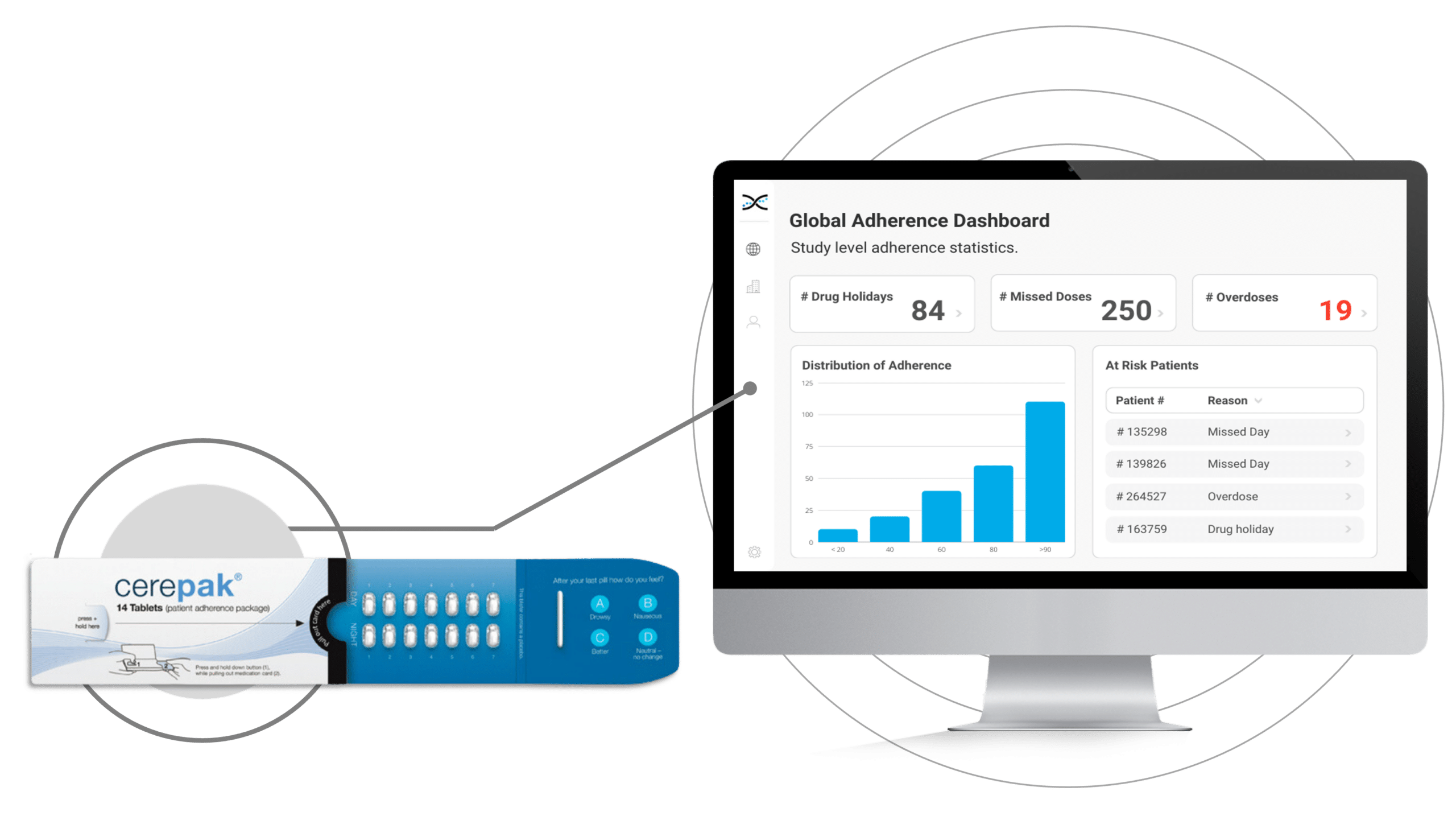 Improve Patient Adherence with Cerepak
Non-adherence is a significant issue in clinical trials, with several contributing factors. Patients may find it challenging to follow complex medication regimens, and side effects can lead to non-adherence. Additionally, forgetfulness and lack of motivation can further affect adherence. Furthermore, patients may have doubts regarding the effectiveness and safety of the medication being tested, and the stigma associated with clinical trial participation can further exacerbate non-adherence. Therefore, identifying and addressing these factors is crucial to ensure the clinical trial results are accurate and reliable.

Together, AARDEX Group and Westrock are revolutionizing how sponsors measure and manage adherence. The proposition is simple yet sophisticated. Discreet microprocessors hidden within the cavities in the Cerepak activate when a pill is removed. The processors capture the medication event's date, time, and location before synchronizing to AARDEX Group's adherence software, MEMS AS. The payoff is two-fold: Patients are encouraged by medication reminders and alerts to remind them to take their scheduled dose, enhancing adherence. While researchers can remotely assess adherence and monitor for problematic behaviors, such as missed days, medication holidays, and overdoses.
Identify Non-Adherence Rapidly.
Cerepak boasts seamless integration with our medication adherence software, MEMS AS. This dynamic duo offers researchers unparalleled insights into patient adherence. Leveraging sophisticated microprocessor technology, Cerepak accurately captures medication usage data, which is then processed by MEMS AS using more than 70 proprietary algorithms. These algorithms generate dashboard visualizations and reports on medication compliance at various levels - participant, study, and site. This formidable partnership redefines the benchmark for monitoring medication adherence, equipping investigators with the knowledge they need to make informed decisions.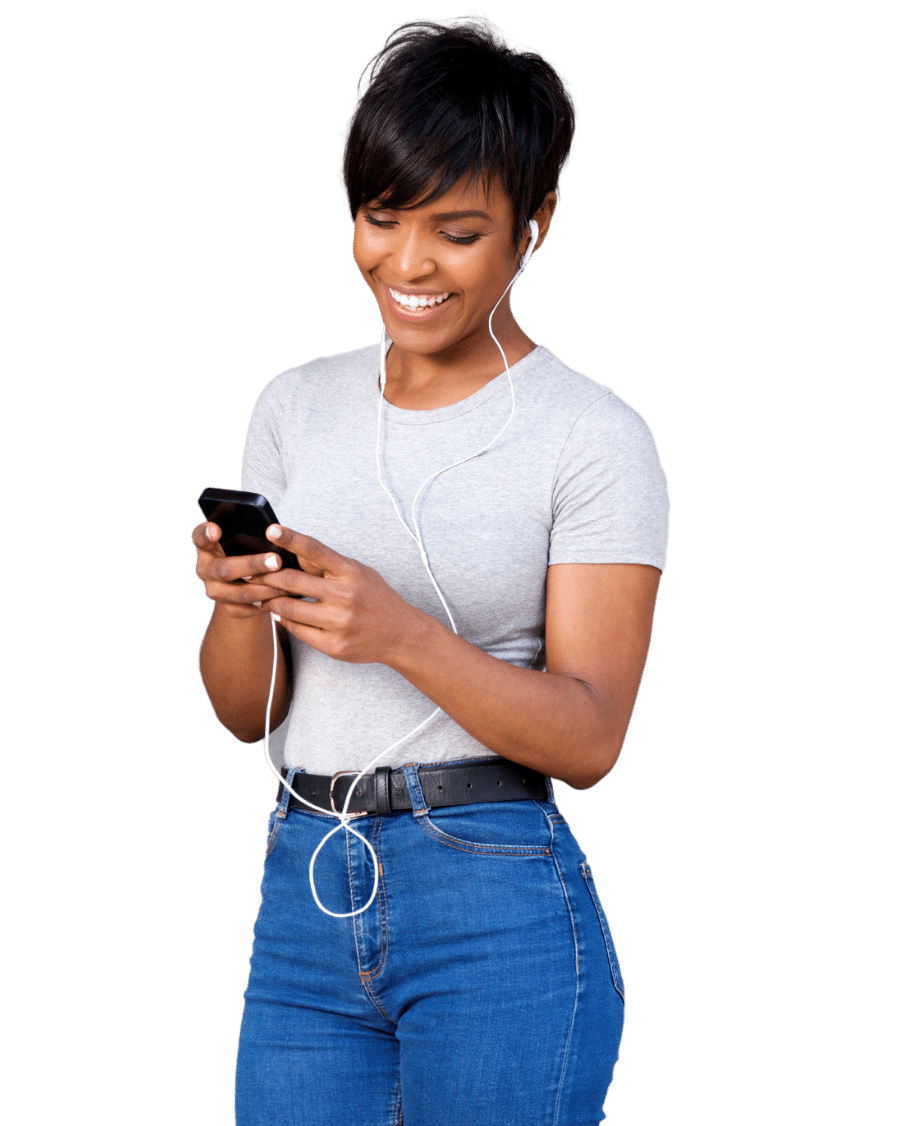 Elevate Patient Adherence.
Cerepak seamlessly integrates with AARDEX Group's Mobile App, MEMS® Mobile, providing participants with a potent tool to manage their medication regimen. The app enables users to set medication reminders, review their dosing history, and maintain adherence to their medication schedules. This minimizes the likelihood of missed doses and medication mishaps and empowers individuals to take charge of their health and well-being. At AARDEX Group, we envision patient adherence packaging as more than just a pill storage solution – we see it as an instrument that supports patients in leading their healthiest lives. By combining Cerepak with MEMS Mobile, we're turning that vision into a tangible reality.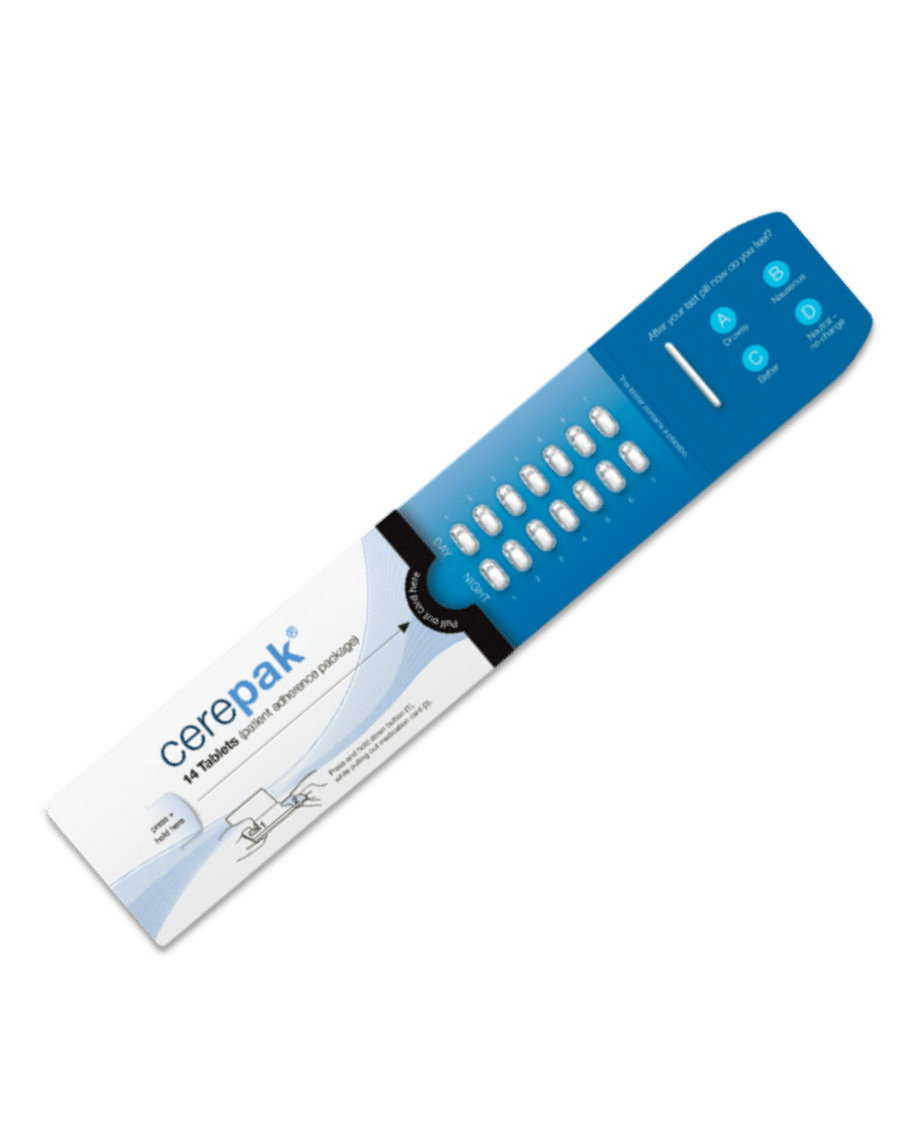 "Prompt" Optimal Patient Adherence.
"Prompt" technology stands as a remarkable attribute of Cerepak, utilizing both light and vibration reminders to support patients in adhering to their medication schedules, regardless of busy lifestyles or complex dosing regimens. This ingenious technology delivers discreet and non-invasive reminders, significantly reducing the likelihood of missed doses and medication errors. Designed with patient needs in mind, "Prompt" technology proves especially advantageous for individuals managing multiple medications or those navigating intricate dosing schedules. Enhancing medication adherence fosters improved patient outcomes and alleviates the stress associated with managing medications.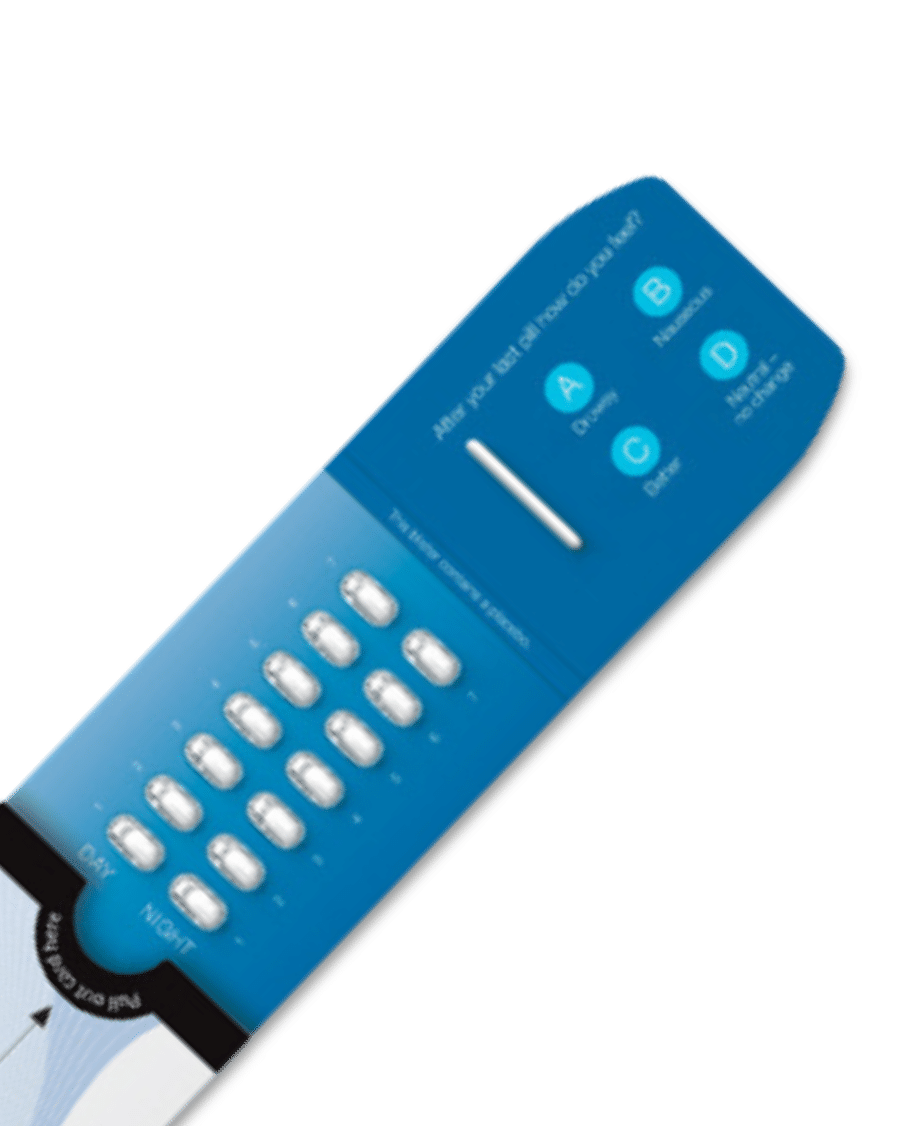 The distinctive and advantageous one-push-button questionnaires offered by Cerepak set it apart as a unique patient adherence packaging solution. These questionnaires enable patients to log Quality of Life (QOL) feedback with each dosing event, capturing information on factors such as pain, insomnia, or thirst. This essential data assists healthcare providers in tailoring treatment plans and making informed decisions to enhance patient outcomes. Patients can contribute crucial feedback regarding their medication experiences by merely pressing a single button, paving the way for more customized and efficient treatment strategies. This feature strengthens the patient-provider relationship and empowers patients to participate actively in their healthcare journey.

The Go-To Solution for Pharma Companies
Some of the world's leading pharmaceutical companies have embraced our medication adherence solutions. From global giants to niche players, these organizations have recognized the value of our innovative solutions for enhancing medication adherence, reducing costs, and improving patient outcomes. It's an honor to partner with these remarkable brands, and we're proud to contribute to their efforts in advancing healthcare.
Connect with an adherence expert.
WEBINAR WITH MERCK & BIOGEN
Mitigating the Risk of Poor Adherence in Trials
Watch this live recording with adherence experts from Merck & Biogen to learn about their approach to mitigating the risk of poor adherence in trials.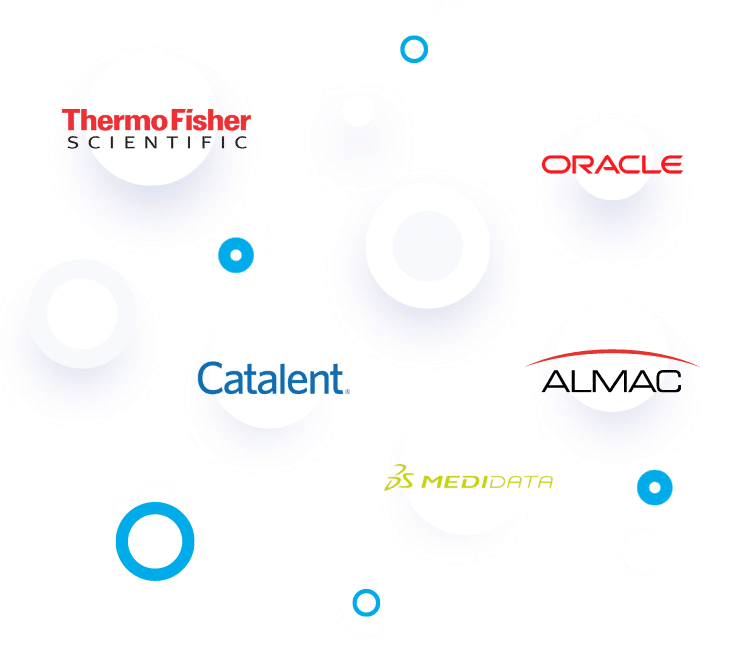 Collaborating for Safer, More Efficient Trials.
By combining technology and partnerships, we are revolutionizing how medication adherence is monitored in clinical trials. Our unique adherence ecosystem brings together leading medication adherence packaging and devices and DCT, IRT, and EDC vendors, CROs, and CMOs to drive innovation.